CHRISTMAS CRAFTS FOR KIDS
Paint a snowman card
Materials :
blue or lilac card paper
white tempera paint
red tempera paint
blue tempera paint
paint brush with stiff bristles
smaller sized soft tipped paint brush
red crepe paper strip for scarf

Method
1. Use white paint to paint two circles, a smaller one on top of a bigger one.
2. Use the brush to dab snow on the ground.
3. Use your fingertip to rub the tip of the brush to make snow falling.
4. Use the soft tip paint brush to paint the eyes, buttons, nose, mouth
and hands.
5. Paint the hat.
6. Glue the crepe paper to make the scarf.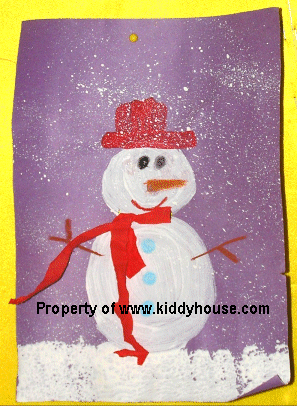 HOMEPAGE & MENU FOR OUR OTHER RESOURCES

DISCLAIMER : This is a disclaimer. We try to gather information that are as accurate as possible. However, if there are mistakes, we will not be held liable or responsible for anything. Use it at your own discretion.

We are also not responsible for any links beyond our site.