CHRISTMAS CRAFTS FOR KIDS
Reindeer Photo Frame
Materials :
2 pcs of carboard cut into a photo frame size
black colored paper/eyes
red colored paper/nose
glitter glue to decorate
brown card paper for antlers
roll brown paper for antlers
Art/card paper for hands and mitt
Glue
brown and pink paint or oil crayons

Method
1. Cut out the center of one of the cardboard frame
2. Color and decorate frame with center cut out.
3. Color the ears.
4. Glue strips to make antlers.
5. Glue the cardboard frames together. Do not glue either the top or the sides. Need to insert photo.
6. Glue ears, antlers, eyes and nose on.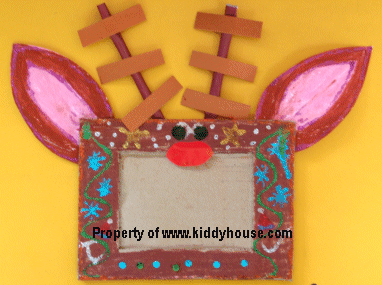 HOMEPAGE & MENU FOR OUR OTHER RESOURCES

DISCLAIMER : This is a disclaimer. We try to gather information that are as accurate as possible. However, if there are mistakes, we will not be held liable or responsible for anything. Use it at your own discretion.

We are also not responsible for any links beyond our site.