CHRISTMAS CRAFTS
Christmas Art Activitiy - Make a sponge print xmas tree card
Materials :
Blue sugar paper or craft paper
triangle-shaped sponges (three different sizes)
another piece of sponge (for printing snowy background)
green and white paint
silver and red glitters mixed with glue
hard paint brush

Method
1. Fold sugar paper or craft paper into half to make a card.
2. Dip the smallest triangular-shapes sponge into green paint and stamp it at the top of the card.
3. Repeat with second sized sponge with the top slightly overlapping the top triangle.
4. Again repeat the same thing with the largest triangular sponge to complete the tree.
5. Then print the trunk.
6. Dip the other piece of sponge into while paint and stamp the bottom part of the paper for a snowy ground.
7. Stamp lightly all over to represent snow.
8. Use the hard or firm paint brush to dab white colored paint at the bottom of each triangle.
9. Use a clean brush to dip into the glitter glue and dab red glitters on the tree.
10. Repeat with silver glitters all over the place.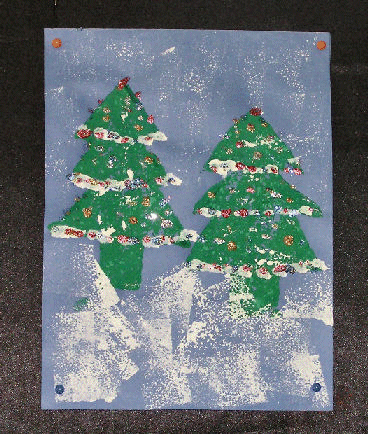 HOMEPAGE & MENU FOR OUR OTHER RESOURCES

DISCLAIMER : This is a disclaimer. We try to gather information that are as accurate as possible. However, if there are mistakes, we will not be held liable or responsible for anything. Use it at your own discretion.

We are also not responsible for any links beyond our site.