Diwali, the Hindu Festival of Lights
Diwali (in Hindi) or Deepavali (in Tamil) is the Hindu Festival of Lights. The name originally comes from the Sanskrit word dipavali, meaning a row of lights. Wherever Diwali is being celebrated you will see shops, houses and public places decorated with small, earthenware, oil lamps known as diyas. They are usually placed in rows on window sills and outside buildings as decorations.
Diwali is celebrated around the world by people who follow the Hindu religion. This is mostly those of Indian ethnicity, but today they may be celebrating as British, American, Malaysian, Singaporean, Australian, Canadian, New Zealander, Fijian, Mauritian, South African, and many, many more countries around the world. Many non-Hindu Indian families from the Jain and Sikh religions have often joined in and made this a more widely celebrated festival.
This year (2008) Hindus will start their Diwali celebrations on October 28th.
The Meaning of Diwali
The Festival of Lights, as with most ancient legends, helps us to know the truth of victory of good over evil, but more specifically for Hindus at this time, it means to understand the meanings behind each of the five days of Diwal. It specifically commemorates the return of Lord Rama to his kingdom Ayodhya, at the end of his exile which lasted for 14 years.
As with many eastern festivals, the dates are based on the Lunar calendar, with Diwali eve on the fourteenth lunar day of the month of Kartik (October/November). The first day is called Dhanvantari Triodasi, also sometimes called Dhan Theras, while the second day is called Narak Chaturdasi. According to Hindu legend, on this day Lord Krishna destroyed the demon, Narakasur, and made the world free from fear. The third day is the actual Diwali, when Hindus worship the Mother Lakshmi, and on the fourth day they perform Goverdhan Pooja. The fifth and final day of Diwali is called Bhratri Dooj, and is dedicated to sisters and is the first day of the Hindu New Year.
The special Festival of Light's diyas are lit to help the goddess (Mother) Lakshmi find her way into people's homes, especially as the period is also during the fortnight (two weeks) of the dark month of Kartik. Goddess Lakshmi is the symbol of wealth and prosperity and is also the consort of the Hindu god, Vishnu. As Hindus are also celebrating their New Year, Lord Ganeshu, the elephant headed god, is worshipped in most Hindu homes on this day.
Diwali Recipes
In a similar manner to many festivals and celebrations, certain recipes, or foods are traditional during Diwali. During Diwali many Indians only eat vegetarian dishes, and of course, as the cow is sacred to Hindus, no beef is ever eaten, at any time of the year, not just during Diwali.
On Day 1: Sheera is eaten - a warm fudge-like sweet made with raisins, nuts, semolina, saffron and cardamom and - is eaten with a spicy black-eye bean curry.
On Day 2: This is a day of fasting for many Hindus, and they do not break their fast until sunset with lapsee, a warm sweet porridge of cracked wheat, clarified butter and sugar.
On Day 3: Kheer, a milky pudding made with rice and sago is eaten, together with lentil vada (fritters).
On Diwali itself and on New Year's Day (fifth day of Diwali): Many different types of vegetable curries are eaten. They like to include as many vegetables as possible as this signifies wealth and bounty lasting for the whole year. A huge assortment of sweets is always available. Diwali day is spent eating with the family, and New Year's Day, visiting all the friends and neighbors.
Despite the huge quantities of food being offered, guests are always expected to finish everything!
Try making this popular Diwali snack called, Muruku.
Diwali Art Celebrating the Festival of Lights
Probably the most well recognized are Rangoli Patterns, beautifully made decorations, drawn on floors and even pavements, usually with rice flour and water, or dry and made with powdery, colored sand.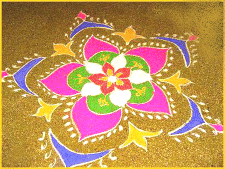 US Government Recognition
There is something special about Diwali 2008. It is the first since the US Senate officially recognized Diwali, the Festival of Lights, unanimously passing Senate Resolution 299 on November 14th 2007.
Diwali ki shubhkamnaye
If you are Hindu (or among the Jain or Sikh communities who celebrate Diwali), we wish you Happy Diwali and thank you for bringing one of the world's most colorful celebrations to our lives.
DIWALI PRINTABLES
Diwali worksheets, coloring and printables
DIWALI CRAFTS AND ART IDEAS FOR KIDS
Simple Diwali crafts for kids
Several original Diwali crafts with pictures from kiddyhouse.com.
DIWALI STORIES
DIWALI ACTIVITIES FOR KIDS
Paint a mendi online
Check this site out to see mendi patterns are drawn on the hands and other diwali activities.
DIWALI LESSONPLANS
A collection of Diwali lesson plans
DIWALI CLIPARTS
Diwali Clipart and Graphics collection
MORE DIWALI FACTS AND ACTIVITIES
About Rangoli, rangoli designs, and how to make a rangoli
IMPORTANT : COPYRIGHT : Please do not use any of the graphics here for your homepage. They are my own drawings unless otherwise stated. If you wish to have frog cliparts for your homepage, please get it from our clipart page. However, they are not for your homepage clipart collection.
DISCLAIMER : This is a disclaimer. We try to gather information that are as accurate as possible. However, if there are mistakes, we will not be held liable for anything. Use it at your own discretion.
IMPORTANT : We are not responsible for any links beyond our site.