When is Kwanzaa?
Kwanzaa is celebrated from December 26th to January 1st.
What is Kwanzaa?
Kwanzaa is the first specifically African holiday created by Dr. Maulana Karenga of United Slaves Organization in 1966.
What was the purpose or goal of Kwanzaa?
Initially, Karenga said that Kwanzaa was to be an alternative to Christmas and blacks should shun Christianity as it was a white man's religion. Later, Karenga changed his position because he did not want to alienate those who were already practicing Christianity. In the 1997 Kwanzaa, he stated that Kwanzaa is a celebration of:
family
community
and culture
It was not created as an alternative religion or religious holiday.

The name Kwanzaa is from the Swahili phrase "matunda ya kwanza" which means "first fruits". Swahili is an East African language and it was chosen because it reflects status as a symbol of Pan-Africanism.

Principles of Kwanzaa

There are seven guiding principles (Nguzo Saba) in Kwanzaa. There are seven days of celebrations, namely:
1. Umoja (Unity)
2. Kujichagulia (Self-Determination)
3. Ujima (Collective Work and Responsibility)
4. Ujamaa (Cooperative Economics)
5. Nia (Purpose)
6. Kuumba (Creativity)
7. Imani (Faith)

KWANZAA STAMPS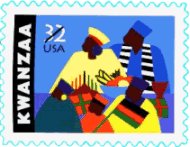 The first Kwanzaa stamp was issued on October 22. 1997. It was designed by Synthia Saint James.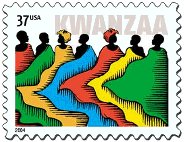 The second Kwanzaa stamp was created by artist Daniel Minter. It has seven figures in colorful robes representing the seven principles.
Kwanzaa Worksheets, Coloring and Printables
Print out these Kwanzaa worksheets, coloring activities or other printables
Kwanzaa Crafts
Make some Kwanzaa crafts for kids
Kwanzaa Cliparts and Graphics
Get these Kwanzaa cliparts, graphics and backgrounds for your webpages or newsletters.

Kwanzaa Games for kids
Kids will have fun with these Kwanzaa games and other activities for kids
Kwanzaa Stories
Read fun Kwanzaa stories here.
Kwanzaa Songs and Poems
Shares these songs and rhymes with kids.
Kwanzaa Lesson Plans
Kwanzaa lesson plans and other resources for teachers
IMPORTANT : COPYRIGHT : Please do not use any of the graphics here for your homepage. They are my own drawings unless otherwise stated. If you wish to have frog cliparts for your homepage, please get it from our clipart page. However, they are not for your homepage clipart collection.
DISCLAIMER : This is a disclaimer. We try to gather information that are as accurate as possible. However, if there are mistakes, we will not be held liable for anything. Use it at your own discretion.
IMPORTANT : We are not responsible for any links beyond our site.